About Us
Our Firm
Robert A. Dawkins, CPA has served as a trusted business partner to clients throughout central and southern New Hampshire for over 30 years. We provide professional services to individuals and small to medium sized businesses located in and around the communities of Derry, Londonderry, Manchester, Goffstown, Bedford, Bow, Hooksett, and Concord.
Our expertise ranges from basic tax management and accounting services to more in-depth services such as financial statements and financial planning. The combined proficiency, experience, and enthusiasm of our accounting professionals and support staff assures that every client receives the close analysis and attention they deserve.
Our Mission
Our mission is to help clients maintain financial viability in the present, while taking a proactive approach to achieve future goals. When you place your trust in us, we make a commitment to you to:
Offer a level of services that exceeds your expectations.
Provide you with quality work in a timely manner.
Deliver personalized service supported by the latest industry technology.
Adhere to the highest standards of professional ethics.
The firm of Robert A. Dawkins, CPA is committed to a quality product, excellent customer service, and exceptional ethics. We believe in long-term relationships, staff professionalism, and honoring our commitments to you. We adhere to these principals as we work with you toward a successful future.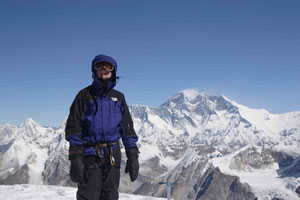 We believe that there is no obstacle too large for us to conquer for our clients. We understand what it is to be passionate about things that are important to you both in your work and personal life.
(Photo): Bob on top of Mera Peak (21,247') in the Himalaya Mountains, Nepal. Mount Everest is in the background.